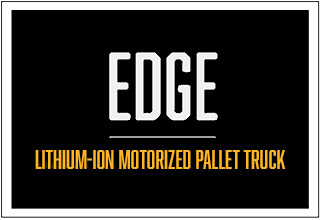 Give Yourself The Edge in Productivity and Affordability
The Edge is a Lithium-Ion powered pallet jack offering exceptional durability, maneuverability, and affordability. With a compact design and motorized lift, lower, and travel capabilities, the Edge allows operators to effortlessly handle loads up to 3,300 lbs. in even the most confined spaces. Add in fast charging, and simple battery changes, and it's easy to see how the Edge gives you a productivity edge over manual hand pallet jacks
Buy Now
Capacity:

3,300 lbs

Overall Widths:

27 inches

Fork Lengths:

45.3 inches

Battery:

24 volt / 20Ah or 24 volt / 36Ah

Travel Speed:

2.8-3.0 mph
Give Your Team The Edge.

The Edge Lithium-ion powered pallet truck is ideal for warehousing, retail, and delivery. Its long run times and fast charging capabilities combined with powered travel, lift, and lower functions will increase operator productivity.
Debris Diverter for Hand Pallet Trucks
Divert Debris Away From Your Wheels

This unique attachment diverts items away from the steer tires on a hand pallet truck, allowing smoother, easier, more reliable travel in a variety of environments.

Easier Steering, Smoother Travel

By preventing foreign objects from getting under the steer tires of hand pallet trucks, the Debris Diverter delivers more consistent, reliable travel for easier operation and more precise, predictable travel.

Truer Steering For Your Fleet

A Lift-Rite exclusive, the attachment is available on most new Lift-Rite models or as a retrofit for virtually any pallet jack in your fleet. It quickly and easily attaches to most brands of hand pallet trucks.
You May Also Like: