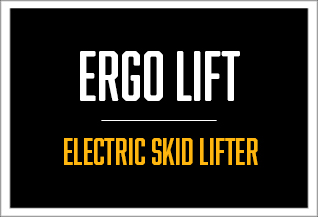 Ergonomic Load Positioning
The Lift-Rite Ergo-Lift electric skid lift trucks provide portable, ergonomic load positioning and load lifting convenience. This manual operated, electric-powered scissor lift table is designed for applications where raising and lowering are more frequent. Lift-Rite electric skid lifters are designed for open bottom pallets or skids, containers, picking and sorting operations and assembly line operations.
Contact Us
Capacity:

3,000 lbs

Fork Length:

48 inches

Frame Width:

20.50 inches

Fork Width:

7.00 inches

Low Height:

3.25 inches

Raised Height:

31.50 inches

Wheel Diameter:

8.00 inches

Wheel Type:

Nylon

Roller Diameter:

3.00 inches

Roller Type:

Nylon

Weight:

430 lbs
Technical Information & Product Resources
Electric Skid Lift Brochure

Lift-Rite Product Line Guide
Ergonomic Lifter Product Manual Archive
Please complete the contact form below to request more information about the Lift-Rite Ergo-Lift Electric Scissor Lift Table.
Please fix the following errors and resubmit.
You May Also Like: