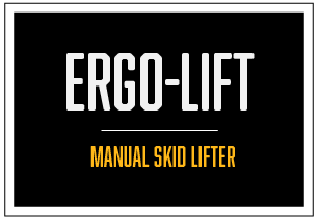 Convenient, manual load positioning and lifting
The Lift-Rite Manual Ergo-Lift skid lifter provides portable, ergonomic load positioning and load lifting convenience. The manual (EM) skid lifter configuration is designed for open bottom pallets or skids, containers, picking and sorting operations, and assembly lines.
Contact Us
Capacity:

3,000 lbs

Fork Length:

48 inches

Frame Width:

20.50 inches

Fork Width:

7.00 inches

Low Height:

3.25 inches

Raised Height:

31.50 inches

Wheel Diameter:

8.00 inches

Wheel Type:

Nylon

Roller Diameter:

3.00 inches

Roller Type:

Nylon

Weight:

330 lbs
Technical Information & Product Resources
Manual Skid Lift Brochure

Lift-Rite Product Line Guide
Ergonomic Lifter Product Manual Archive
Contact Us
Please complete the contact form below to request more information about the Lift-Rite Manual Scissor Lift Table.