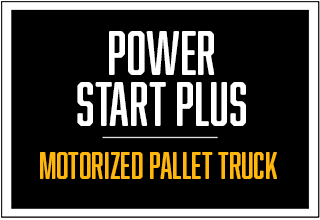 Powerful Just Got More Powerful.
The Lift-Rite PP Series Power Start Plus is a powered pallet jack that enhances the rugged dependability of a hand pallet jack with a self-propelled motor that provides convenience and maneuverability. The electric motor is easily activated and deactivated via two push buttons on the handle. Because it gives the operator the ability to steer without pulling the load, the Power Start Plus is the ideal motorized pallet jack for supermarkets, hospital corridors and distribution warehouses.
Contact Us
Capacity:

2,200 lbs

Frame Width:

20.50 inches

Fork Length:

36 inches

Fork Width:

6.25 inches

Low Height:

3.00 inches

Raised Height:

7.75 inches

Roller Diameter:

3.00 inches

Roller Type:

Poly

Weight:

185 lbs

Wheel Diameter:

7.00 inches

Wheel Type:

Polyurethane
Technical Information & Product Resources
Power Start Plus Motorized Pallet Jack Dimensions
Power Start Plus (PP Series) Product Manual Archive
Contact Us
Please complete the contact form below to request more information.
Please fix the following errors and resubmit.
You May Also Like: