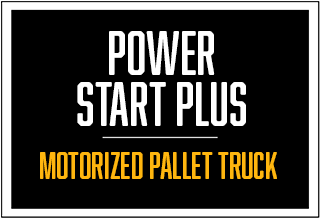 Powerful Just Got More Powerful.
The Lift-Rite Power Start Plus is a powered pallet truck that enhances the rugged dependability of a hand pallet truck with a self-propelled motor that provides convenience and maneuverability. The electric motor is easily activated and deactivated via two push buttons on the handle. Because it gives the operator the ability to steer without pulling the load, the Power Start Plus is the ideal motorized pallet truck for supermarkets, hospital corridors and distribution warehouses.
Contact Us
Capacity:

2,200 lbs

Overall Widths:

20.5, 27 inches

Fork Lengths:

36, 42, 48 inches*

*Not all fork lengths available in all fork overall widths.
Debris Diverter for Hand Pallet Trucks
Divert Debris Away From Your Wheels

This unique attachment diverts items away from the steer tires on a hand pallet truck, allowing smoother, easier, more reliable travel in a variety of environments.

Easier Steering, Smoother Travel

By preventing foreign objects from getting under the steer tires of hand pallet trucks, the Debris Diverter delivers more consistent, reliable travel for easier operation and more precise, predictable travel.

Truer Steering For Your Fleet

A Lift-Rite exclusive, the attachment is available on most new Lift-Rite models or as a retrofit for virtually any pallet jack in your fleet. It quickly and easily attaches to most brands of hand pallet trucks.
You May Also Like: