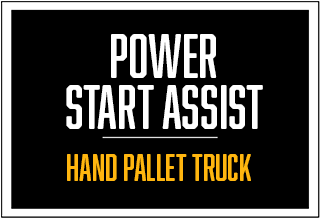 Outmuscles Heavy Loads From the Start.
The Lift-Rite ST Series Power Start Assist pallet jack features Power-Start-Technology, which enables this unique hand truck to easily overcome initial inertia of a load, with a simple design that reduces strain on the operator without the use of batteries or motors. By simply pumping the towbar up or down, the operator can easily maneuver the Lift-Rite start assist manual pallet jack in any direction, even when carrying the maximum load.
Buy Now
Capacity:

5,000 lbs

Overall Widths:

20.5, 27 inches

Fork Lengths:

36, 42, 48 inches*

*Not all fork lengths available in all fork overall widths.
Technical Information & Product Resources
PST23 Start Assist Pallet Truck Dimensions
Power Start Assist Trucks Sell Sheet

Lift-Rite Product Line Guide
Power Start Assist (ST Series) Product Manual Archive
Contact Us
Please complete the contact form below to request more information.