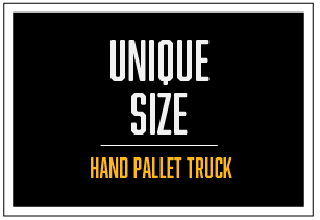 Fear No Task.
Lift-Rite's Unique Size Series pallet truck offers superior durability as well as flexibility to allow you to customize the truck to your application. Choose from varying frame widths, fork lengths to suit your unique handling needs, including narrow pallet jack, double pallet jack and triple pallet jack configurations. The reinforced fork design provides the strength and rigidity for handling custom length pallets and skids, with capacities up to 5,500 lbs. The Lift-Rite manual pallet truck assures a perfect fit in unique environments when handling non-standard pallets and products.
Buy Now
Capacity:

5,500 lbs

Overall Widths:

14, 16, 18, 20.5, 26, 27 inches

Fork Lengths:

21, 24, 28, 29, 36, 48, 54, 60, 70, 72, 84, 96 inches*

*Not all fork lengths available in all fork overall widths.
Debris Diverter for Hand Pallet Trucks
Divert Debris Away From Your Wheels

This unique attachment diverts items away from the steer tires on a hand pallet truck, allowing smoother, easier, more reliable travel in a variety of environments.

Easier Steering, Smoother Travel

By preventing foreign objects from getting under the steer tires of hand pallet trucks, the Debris Diverter delivers more consistent, reliable travel for easier operation and more precise, predictable travel.

Truer Steering For Your Fleet

A Lift-Rite exclusive, the attachment is available on most new Lift-Rite models or as a retrofit for virtually any pallet jack in your fleet. It quickly and easily attaches to most brands of hand pallet trucks.