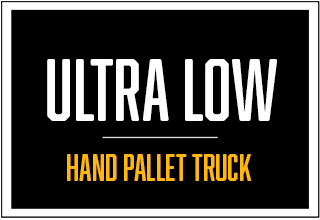 For Handling Pallets With Low Clearance Openings
To help maximize customers' warehouse space, Lift-Rite offers ultra low profile pallet jack trucks suitable for pallets or skids with low clearance openings. Our Universal Ultra-Low Profile Low Pallet Truck is rated for a 3,000 lb. maximum load capacity and features a one‐piece cast hydraulic pump for reliable performance and convenient service.
Buy Now
Capacity:

3,000 lbs

Overall Width:

29 inches

Fork Length:

48 inches

Lowered Fork Height:

1.75 inches
Debris Diverter for Hand Pallet Trucks
Divert Debris Away From Your Wheels

This unique attachment diverts items away from the steer tires on a hand pallet truck, allowing smoother, easier, more reliable travel in a variety of environments.

Easier Steering, Smoother Travel

By preventing foreign objects from getting under the steer tires of hand pallet trucks, the Debris Diverter delivers more consistent, reliable travel for easier operation and more precise, predictable travel.

Truer Steering For Your Fleet

A Lift-Rite exclusive, the attachment is available on most new Lift-Rite models or as a retrofit for virtually any pallet jack in your fleet. It quickly and easily attaches to most brands of hand pallet trucks.