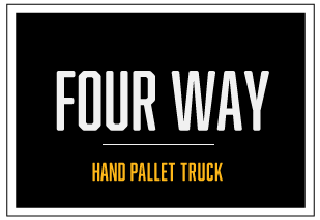 Designed For Efficiency. Made For Working.
The Lift-Rite MW Series Low Profile 4 Way Pallet Jack allows operators to handle 4 way entry pallets easily in all four directions for maximization of warehouse space and trailer load density. A unique design enable forks to fit into the side openings of four-way pallets for greater versatility in your application. In addition, the ergonomic handle provides convenient access to lift, lower and neutral. Lift-Rite 4 way low profile pallet trucks are ideal for operations where space is limited.
Contact Us
Capacity:

5,000 lbs

Fork Length:

48 inches

Frame Width:

33.00 inches

Fork Width:

6.00 inches

Low Height:

2.00 inches

Raised Height:

6.75 inches

Wheel Diameter:

7.00 inches

Wheel Type:

Nylon

Roller Diameter:

2.00 inches

Roller Type:

Steel

Weight:

205 lbs
Technical Information & Product Resources
Debris Diverter for Hand Pallet Trucks
Divert Debris Away From Your Wheels

This unique attachment diverts items away from the steer tires on a hand pallet truck, allowing smoother, easier, more reliable travel in a variety of environments.

Easier Steering, Smoother Travel

By preventing foreign objects from getting under the steer tires of hand pallet trucks, the Debris Diverter delivers more consistent, reliable travel for easier operation and more precise, predictable travel.

Truer Steering For Your Fleet

A Lift-Rite exclusive, the attachment is available on most new Lift-Rite models or as a retrofit for virtually any pallet jack in your fleet. It quickly and easily attaches to most brands of hand pallet trucks.
4-Way Pallet Truck Sell Sheets

Lift-Rite Product Line Guide
Low Profile 4-Way Trucks Product Manual Archive
Contact Us
Please complete the contact form below to request more information.