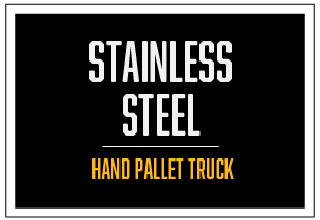 The Ultimate Durable Good.
The Lift-Rite Stainless Steel Hand Pallet Truck is specially designed for corrosive environments and other applications that demand high standards of hygiene, such as food processing, pharmaceutical and marine industries. Manufactured entirely of stainless steel or other non-corroding materials, the Lift-Rite Stainless Steel Pallet Jack is engineered for reliability and long life in these tough work conditions.
Buy Now
Capacity:

4,400 lbs

Overall Widths:

20.5, 27 inches

Fork Length:

48 inches
Technical Information & Product Resources
Debris Diverter for Hand Pallet Trucks
Divert Debris Away From Your Wheels

This unique attachment diverts items away from the steer tires on a hand pallet truck, allowing smoother, easier, more reliable travel in a variety of environments.

Easier Steering, Smoother Travel

By preventing foreign objects from getting under the steer tires of hand pallet trucks, the Debris Diverter delivers more consistent, reliable travel for easier operation and more precise, predictable travel.

Truer Steering For Your Fleet

A Lift-Rite exclusive, the attachment is available on most new Lift-Rite models or as a retrofit for virtually any pallet jack in your fleet. It quickly and easily attaches to most brands of hand pallet trucks.
Stainless Steel Truck Sell Sheet

Lift-Rite Product Line Guide
SS Stainless Steel Truck Product Manual Archive
Contact Us
Please complete the contact form below to request more information about the Lift-Rite Stainless Steel pallet truck.