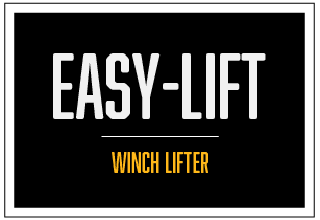 Doesn't Break A Sweat.
The Easy-Lift winch lifter by Lift-Rite provides a simple yet effective platform style material handling solution for loads under 500 lbs. Inquire
Capacity:

500 lbs

Platform Length:

20 inches

Platform Width:

20.00 inches

Low Height:

4.50 inches

Raised Height:

52.00 inches

Wheel Diameter:

6.00 inches

Wheel Type:

Phenolic

Swivel Caster Diameter:

3.00 inches

Swivel Caster Type:

3.00 inches

Weight:

98 lbs
Technical Information & Product Resources
Easy Lift Winch Lifter Dimensions
Easy Lift Sell Sheet

Lift-Rite Product Line Guide
Easy Lift Winch Lifters Product Manual Archive
Contact Us
Please complete the contact form below to request more information.